---
Creation 7th Day Adventist
Letters Page

---
GENERAL INFORMATION
Creation 7th Day Adventists do not support the activity of the General Conference of Seventh-day Adventists. We merely publish the following letter transcript as evidence of our claims regarding their persecuting nature toward Seventh-day Adventist churches non-affiliated with the General Conference.
---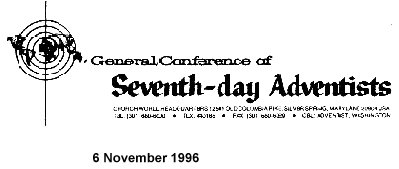 OFFICE OF GENERAL COUNSEL
(301)680-6320








Rogue Valley Historic Seventh-day Adventist Church
P.O. Box 34
Talent, OR 97540

Dear Sir:

It has come to my attention that you are identifying your Church as the Rogue Valley Historic Seventh-day Adventist Church. The General Conference Corporation of Seventh-day Adventists has registered the name Seventh-day Adventist with the U.S. Trademark Office. I have enclosed a copy of that registration for your information.
To prevent the likelihood of confusion, I am requesting that you discontinue using Seventh-day Adventist in the name of your religious organization; and to drop any further reference to Seventh-day Adventist in your communications. I am sure you do not want to intentionally violate applicable law.
Please acknowledge in writing, within 10 days, receipt of this letter together with assurances of your intent to comply with my request. Thank you for your assistance.


Enclosure

---
* Copies of letter on General Conference letterhead available upon request.


(Original source: Pastor Jan Marcussen)
---
"It is not the true church that makes war with those who keep the commandments of God and have the testimony of Jesus Christ."

Signs of the Times, April 22, 1889, by Ellen G. White.
---
RESPONSES TO THE CARSON LETTER
---
OTHER LETTERS MAILED TO:
Rogue Valley Historic Seventh-day Adventist Church
---
CORRESPONDENCE FROM:
Rogue Valley Historic Seventh-day Adventist Church
---
MISCELLANEOUS CORRESPONDENCE
---
Are you Seventh-day Adventist and a "truth-seeker"?
We encourage you to "accept"
This invitation to read our OPEN LETTER to you.
---
Email: barbli@hotmail.com

You are visitor number
.

---

















The Creation 7th Day Adventist Church does not endorse any of the computer- generated advertisements at the bottom of this page. We are sincerely grateful to the site provider for the privilege of FREE use of this web space.